"

Grand, bold and adventurous; a soul-healing cello solo it's pinnacle moment " - Prog Magazine UK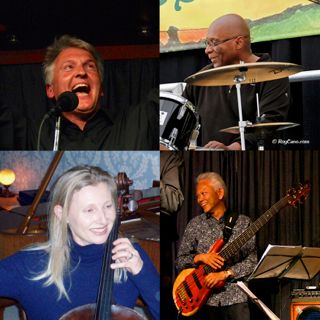 "Dramatic, passionate and fun - brilliant musicianship!" MainlyPiano.com
"Wonderful Musicians" Latest Magazine Brighton
The Paul Gunn Collective exists to play live! 
Original Latin and Acoustic Songs.
"Joyful and Energetic!"   "You really need to catch the group live" Lark Reviews.
Based in Tunbridge Wells UK, Paul Gunn writes music for five piece band with cello soloist and piano. His personal taste in music includes Latin Rhythms, the Baroque, The Modern Era and popular culture of the 60s and 70s. His band is made up of musicians from the four corners of the Commonwealth and Europe.
"Brilliant!" Bath Chronicle
Paul Gunn Collective musicians have performed and recorded with: Gregory Porter, Van Morrison, Wynton Marsalis, Billy Eckstine, Bryan Ferry, Burt Bacharach, Ian Dury, Ed Sheeran, Status Quo, Sanchez, Gloria Gaynor, Max Richter, Glyndebourne Opera and many other top names.