"

This is an amazing piece of work - echoes of Frank Zappa, Chick Corea, and John McLaughlin's Mahavishnu Orchestra. An outstanding piece of music that transcends boundaries and styles." - ingénu/e Magazine review of The Ludwig Suite.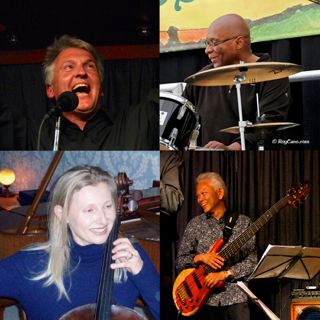 "Grand, bold and adventurous; a soul-healing Cello solo it's pinnacle moment." Prog Magazine.
"Dramatic, passionate and fun - brilliant musicianship!" MainlyPiano.com. "Wonderful Musicians" Latest Magazine Brighton. "Brilliant Musicians!" Bath Chronicle. "Great Musicians - really well put together!" Stuart Vallans - Head of Marshall Live Agency.

"Joyful and Energetic! You really need to catch the group live". Lark Reviews.
Based in Tunbridge Wells UK, Paul Gunn writes music for five piece band with his signature sound of lead cello, improvised saxophone, piano/vocal and Latin rhythm section with Baroque and Classical influences.
Paul Gunn Collective have played at Ealing Jazz Festival, Marlborough International Jazz Festival, Rye International Jazz Festival and many other well established venues and festivals.
Helen Thomas plays Cello with The London Philharmonic Orchestra and has performed live and recorded with Van Morrison, Wynton Marsalis, Burt Bacharach, Gregory Porter and Joe Lovano. Guest Saxophonist Josephine Davies is The UK Parliamentary Jazz Awards Instrumentalist of The Year 2019. Her beautiful sound and elegant solos are a perfect compliment to the compositions. David Rohoman on Drums has played with Ian Dury, Django Bates and Mornington Locket. Leslee Booth on Bass has toured with legendary Jazz singer Billy Eckstine, Gloria Gaynor and Freida Payne. Guest Sax and Clarinet player Bjorn Dahlberg has a Master of Education in Music specialising in Jazz Saxophone from the Royal College of Music in Stockholm and is highly in demand as a top sessionist.